The Fifty-Eighth Series of Meetings of the Assemblies of the Member States of WIPO has started in Geneva, the Swiss Confederation, on September 30, 2019. The Delegation of Ukrpatent consisting of the Director General Andrew Kudin, the Deputy Head of the Department for Examination of Applications for Inventions, Utility Models and Topographies of Integrated Circuits Serhii Torianik and the Head of the Division for International Cooperation and Public Relations Yurii Kuchynskyi take part in the event.
Series of Meetings in Geneva were launched by the report of WIPO Director General Francis Gurry, who noted the trend of steadily growing interest for intellectual property (IP) in the world. As the WIPO leader noted, the rapid and dramatic technological shifts have led to an increase of intangible values and intellectual capital in the economy. Growing of the IP role in the world creates new challenges and increases requirements for the IP legal protection system. In 2017, 3.2 million patent applications, 12.4 million applications for registration of trademarks and 1.2 million applications for industrial designs were filed in the world. Therefore, development of the global IP systems in terms of the ability to capture the whole range of the technological creativity in the world is one of the WIPO's highest priorities today.
Among side-events of the Assemblies of the Member States of WIPO in Geneva, on October 3, 2019 inauguration of the exhibition dedicated to the innovation and development of intellectual property in Ukraine will be held. Ukraine, as the WIPO Member State, is a fully-fledged entity in regulating the activities of the leading international organization. Participation in the annual series of meetings also contributes to a more effective implementation of the IP public policy.
In total, representatives of each of the 192 WIPO Member States, over 1000 delegates of which are registered for the annual event, will attend meetings of the Assemblies of the Member States of WIPO, which will last until October 9, 2019. Delegates will consider issues aimed at the development of the IP global system which is becoming the basis of economic policy in a globalized, technology-oriented world, and will identify the next steps in WIPO's future work.
Live webcast: WIPO offers live coverage of the 59th Series of Meetings of the Assemblies of the Member States of WIPO in Geneva (September 30 - October 09, 2019).
https://www.wipo.int/webcasting/en/assemblies/2019/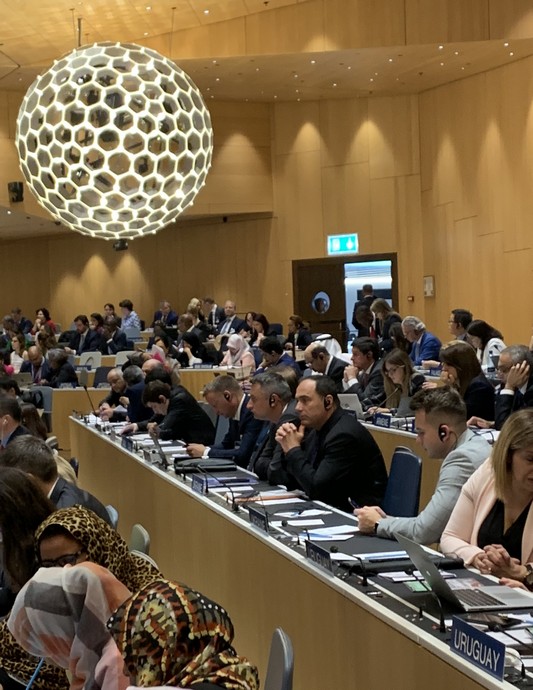 30 September 2019