In Ukraine and across the world, the staff of the State Enterprise "Ukrainian Intellectual Property Institute" (Ukrpatent) continues to work in a hybrid mode. All the key divisions of the enterprise perform their functions for the continuous operation of the state system of legal protection of intellectual property in Ukraine.
Since February 24th, a significant amount of work has been done to provide the necessary conditions and resources for the operation of the enterprise. For many specialists, the Ukrpatent building has become a real shelter and home nowadays: they are present at the building 24/7 providing engineering and IT systems, document management, remote work opportunities for staff outside the enterprise, transport and security functions, basic medical help and much more. Many thanks and deep respect to all who work here without days off!
Ukrpatent is constantly working to provide humanitarian aid and medicines to employees and members of their families. Charitable assistance is also provided to all those who are within reach and need it. We thank all the specialists of Ukrpatent who are actively involved in communications, finding the necessary, sorting, forming packages of humanitarian aid and medicines, transportation of goods to Ukrpatent and targeted delivery of aid around the city.
We would especially like to thank the employees of the enterprise who help people around them at their locations, hand over products and medicines collected and delivered by Ukrpatent to those who need it the most these days. The assistance from Ukrpatent is directed first of all to the elderly, to those who have significant restrictions due to their health conditions, to women and children.
We express our sincere gratitude to everyone who supports Ukrpatent these days. Among the international organisations, these are WIPO, EPO, EUIPO, patent offices of European countries and other countries, which in addition to letters of support and solidarity, are already actively working internationally to support the state system of legal protection of IP in Ukraine as well as providing direct assistance to Ukrainians who need protection the most these days.
Our enterprise continues operating!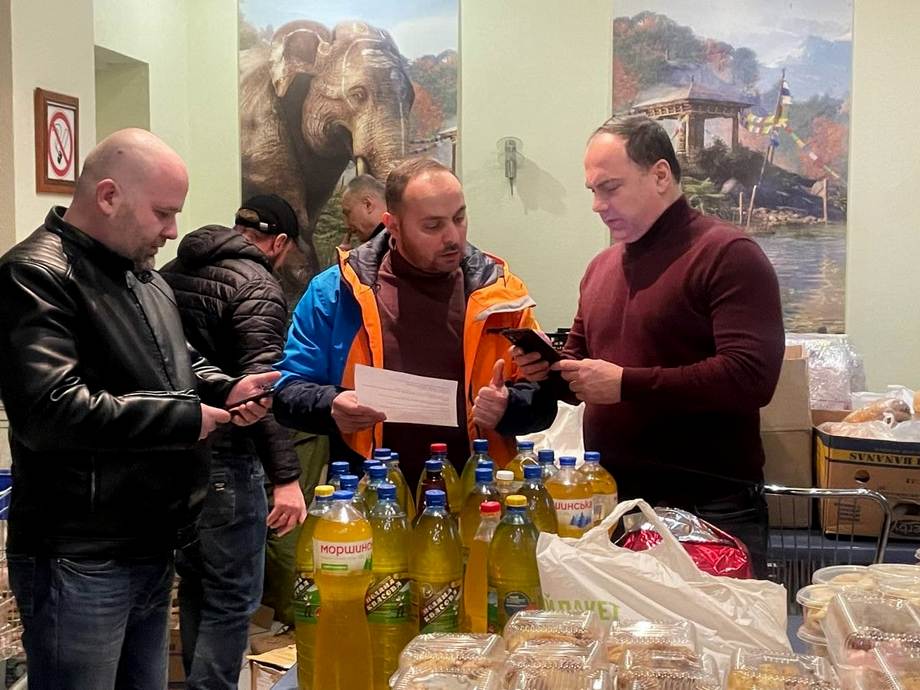 Ukrpatent Director General Andrew Kudin (pictured right)
during the formation of humanitarian aid package
11 March 2022