Ukrpatent receives letters of support from patent offices of European countries.
--
In these dark hours, as the horrific events in Ukraine are unfolding and the Ukrainian nation is faced with unprovoked acts of aggression by the Russian regime, on behalf of the Patent Office of the Republic of Poland, I would like to express our wholehearted support to Ukraine and solidarity with the Ukrainian people.
It is our strong belief that when confronted with propaganda attacks and false narratives undermining Ukraine's right to self-determination, the democratic values and the sense of freedom our countries cherish should become the mainstay of moral order for all of us. There must be no doubt that the threat to Ukraine's freedom is a direct threat to peace and security order across the entire Europe, with consequences reverberating throughout the world. Hence, the immediate and unified response of all democratic countries standing firm by the Ukrainian people and institutions has not only a moral dimension but - with stepped-up diplomatic action and material support - it is also a practical one.
On our part, the Polish Patent Office is eager to lend a hand collectively – we are taking steps to organize financial humanitarian aid for the fraternal Ukrainian Office and provide direct contributions by donating everyday essentials and medication. Being all acutely aware that humanitarian needs are multiplying and spreading by an hour, we hope that this aid will reach all those affected as soon as possible.
Once again, we reiterate our solidarity with all those affected by the conflict in Ukraine and our thoughts are with the entire Ukrainian people and country. This utterly damnable military action committed by Russia must not break the spirit of freedom, which is so close to the Ukrainian and Polish people's hearts. I would like to assure you that our solidarity comes from the genuine sentiment and connection we feel with the Ukrainian men and women, who repeatedly throughout their history demonstrated bravery and love of freedom. Protecting these values is our most important duty today.
Від імені Патентного відомства Республіки Польща ми висловлюємо нашу підтримку українському народу.
President
Edyta Demby-Siwek
Patent Office
of the Republic of Poland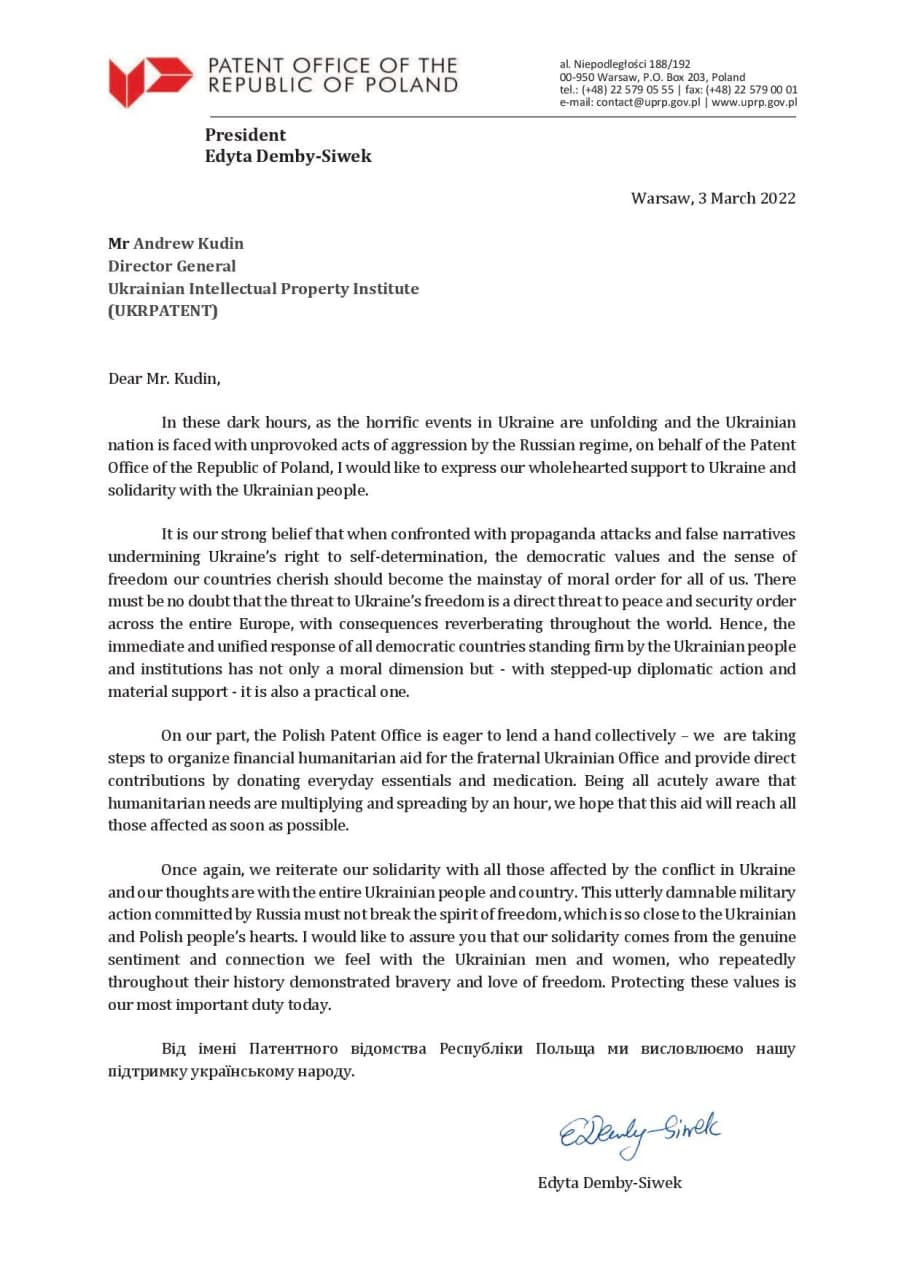 03 March 2022