Ukrpatent receives letters of support from patent offices of European countries. A letter from the Estonian Patent Office.
--
Dear Director General Kudin,
On behalf of the Estonian Patent Office, I would like to express our strong solidarity with the Ukrainian people and particularly with our colleagues and their families in the Ukrainian Intellectual Property Institute. We stand together with the international community in support of Ukraine and its people.
During the past weeks, we have witnessed Ukraine and its people being subject to Russian Federation's unprovoked, unjustified and illegal military aggression against your nation, causing loss of life and suffering. We are putting all efforts to take any actions that are possible in the realm of our activities including those to avoid the loss of IP rights by the Ukrainian applicants and right holders. We are also prepared to contribute in support of Ukraine in IP area on EU and international level. We are ready and looking forward to continue a deepened cooperation with you and your Office in the very near future, based on the Memorandum of Understanding in the Intellectual Property Sphere, signed on the 26th of September 2018 in Geneva, Mykhailo Titarchuk, Deputy Minister of the Ministry of Economic Development and Trade of Ukraine and our Office.
We sincerely hope that these unjustified military actions by Russia, grossly violating not only international law but the principles of humanity itself, that are unimaginable in our times, will be stopped. We align our positions with EU in demanding that Russia immediately ceases its military actions, unconditionally withdraws all forces and military equipment from the entire territory of Ukraine and fully respects Ukraine's territorial integrity, sovereignty and independence within its internationally recognised borders.
Слава Україні!
Yours sincerely,
Margus Viher
Director General
The Estonian Patent Office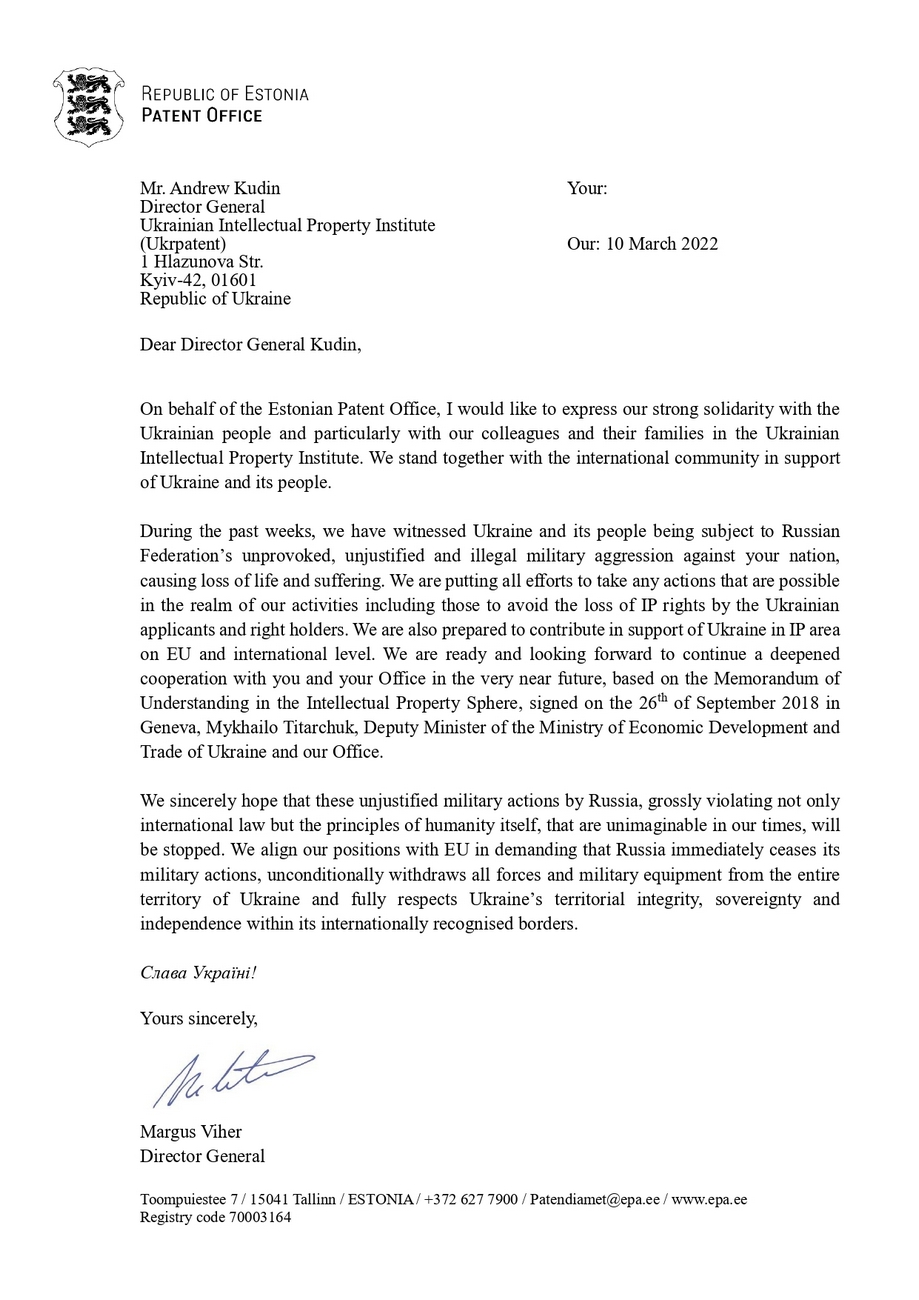 11 March 2022