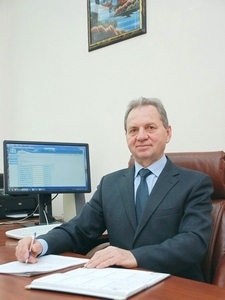 PETRO IVANENKO
Director for Innovation and Information Development
Education
In 1973 Mr. Ivanenko graduated from the Faculty of Automatics and Computer Engineering of Odessa Polytechnic Institute with a degree in Electronic Computing Machines.
In 2004 he graduated from the Closed Joint-Stock Company "Institute of Intellectual Property" with a Master`s Degree in Intellectual Property.
Doctor of Philosophy (Ph.D.) in Technical Sciences, a senior scientific worker.
He defended his thesis on "Choice and measurement of parallel processes in computer systems at the level of hardware components".
Professional experience
From August 1973 till March 1988 worked as an engineer, senior engineer, machine operator, group manager of the Main Scientific-Research and Information-Computer Center of the State Planning Committee of the Ukrainian Soviet Socialistic Republic.
From March 1988 till December 2000 held such positions as a scientific worker, senior scientific worker, laboratory manager, deputy manager of unit and leading scientific worker at the Institute of Information Recording Problems of the National Academy of Sciences of Ukraine.
From December 2000 till January 2015 – Deputy Director, First Deputy Director, Acting Director of the State Enterprise "Ukrainian Industrial Property Institute" (SE "UIPI").
From January 2015 till August 2015 – Deputy Director for Scientific Support of the SE "UIPI".
From August 2015 – Director for Information Technology of Ukrpatent.
Scientific works
Author (co-author) of more than 110 scientific papers in the field of computer systems and information technology for different applied use, mainly for information technology processes automation and administrative management tasks.
Awards, honors
He is awarded with the Honorary Diploma of the Cabinet of Ministers of Ukraine, Diplomas of the Ministry of Education and Science of Ukraine, the State Department of Intellectual Property of Ukraine and public organizations. He also has Letters of acknowledgment.